ETC
ETC
Sensor CEM3 Dimmer Power Control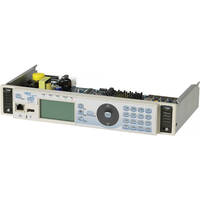 You asked, we listened! CEM3 is ETC's new platform for power control, incorporating nearly 20 years of market feedback. CEM3 is designed to reduce setup time, simplify system backups, and remove all barriers to networking your lighting system!
Familiar look and feel
The CEM3 facepanel immediately bridges the gulf of evaluation for an existing Sensor® user. Graphic displays show you the information you need on a large screen. One-button access for Setup, About, and Set Levels keep the curious user from accidentally making a change when checking the status of a dimmer. The number pad provides fast access to any circuit.
Improved connectivity and backup options
USB quick-load provides storage and uploads of configurations and firmware upgrades. A secondary Ethernet port on the front panel becomes an uplink to the Net3™ lighting network. Two DMX ports maintain legacy hard-line support. Ride-thru and battery backup options for installation systems will allow the processor to stay booted through short-term power outages. A memory chip in each of the racks holds the full configuration for the rack to make module replacement easy.
The power of networking
The plug-and-play features of CEM3 networking are a relief. Forget about past headaches of IP addresses and complicated setup instructions. Basic setup of the network is now as easy as a network switch and a few lengths of Cat5 cable.
Building from extensive experience in networked lighting systems, ETC will soon offer software tools that tightly integrate power control, network gateways, control systems, and intelligent fixtures. Management, system health and circuit feedback are available to any network-connected device.
The Sensor3 system continues the Sensor tradition of delivering premium performance and high value for all levels of users. And now with CEM3 in control, you can sit back and enjoy the tech sessions!
ETC is committed to supporting customers over the long term. Any Sensor or Sensor+ system can be upgraded to CEM3 control. Contact your dealer about upgrading today.
Product Features
Graphical display and number pad reduce time spent on initial setup and local overrides

Options exist for 16-bit control, source arbitration, preset backups, and hold last look

Built-in data-loss protection and zero-setup controller-replacements make troubleshooting simple

Network connections to the console provide remote management of setup, status, and control

New three-in-one module for choice of dimming, relay, and constant for each circuit without changing module hardware
For more info please visit "https://etcconnect.com/product.overview.aspx?Id=22053"
Sensor3 230V Installation Rack
Sensor3 is the foundation for a versatile power system that builds on our proven Sensor® workhorse system with CEM3 control. ETC's Sensor3 Power Control Systems are the performance standard for top theaters, TV studios, and concert halls worldwide. Because a complete range of Sensor3 racks are available, smaller venues like schools and community theaters can also afford Sensor3 excellence.
Modularity means configurability: mix and match the modules in the racks according to your particular fixture inventory. Now with Sensor3's new three-in-one ThruPower modules, you can freely jump from Dimmable to Non-Dim as well as lock a circuit to a constant hot output override without changing modules. The compact design lets you slide up to 48 modules for up to 96 circuits of 2.4kW dimming in and out of a single Sensor3 rack – without tools! And you can take advantage of ETC's innovative Dimmer Doubling™ (twice the control, half the circuits!) and save on dimmer costs.
With CEM3 Power Control, your system is high performance, fast to set up and easy to use! Quickly override levels with console-style number-pad entry. Take remote management even further with Advanced Feature (AF) monitoring by providing circuit-specific information, such as load changes, lamp failures or breaker trips directly to the control console.
Our philosophy at ETC is "zero downtime!" Add the optional backup stations for an easy, 'off the network' control backup solution for failure proofing. Additionally, system backup is stored directly in the rack – which means no setup during controller changes – and options are available for secondary USB backups.
Product Features
Six-, 12-, 24-, and 48-module configurations

Dual 15A, 20A and single 50A and 100A dimmers

Standard, enhanced, and high rise-time choices

Front-access installation with easily accessible line, load and control terminations

100,000A Short Circuit Current Rating (SCCR)

Direct Ethernet control-signal input and two DMX512 inputs

Standard system- and rack-monitoring with diagnostic reporting

Advanced Features (AF) option records and monitors circuit-specific load information

UL924
For more info please visit "http://www.etcconnect.com/product.overview.aspx?ID=22054&lang=us®ion=3"
Sensor3 Modules Specification
Hundreds of thousands of ETC Sensor modules are lighting up venues everywhere. Professionals choose them because they are cost effective and deliver maximum reliability with a minimum failure rate. Known for technical elegance, Sensor3's highly integrated design means fewer parts for fewer failures. And Sensor3's plug-in modularity allows for more configurability, customization and easy maintenance.
Sensor3 modules meet your system's unique needs, offering a wide variety of risetimes to customize to your noise requirements, and a wide variety of amperages to match your fixture inventory. And you can choose the specialty module that best suits your purposes, including Fluorescent, Relay, Constant Circuit Breaker, and GFCI module versions. ETC is looking out for you: Advanced Features modules contain embedded voltage and current sensors. These sensors constantly monitor circuit-status information, which is analyzed by the control electronics to diagnose and report circuit-specific load changes (individual lamp failures) or module faults.
You choose your power. Sensor3's ThruPower module gives you a choice of local override or standard control for each circuit. When the switch on the front of the module is in the On position, power is routed directly from the breaker to the output without passing through the dimmer or toroid filter (choke), which prevents the control system from turning off the output voltage – even if the control module is removed from the system. While in the Dim position, CEM3 controls operation of the module as a relay or a dimmer.
Product Features
Elegant electrical and mechanical design

10A, 15A, 20A, 25A, 50A, and 100A dimmer capacities

100V, 120V and 230V versions

350µs, 500µs and 800µs rise times

Rated for 100% duty cycle and 100% current capacity

Fluorescent and Constant Circuit Breaker modules available

Advanced Features optional on most modules
For more info please visit "https://etcconnect.com/product.overview.aspx?Id=22093"